Cao Bang province is famous for its winding mountain passes contouring green hills and through the old forests of the North East. And the most famous cascade of Cao Bang, Ban Gioc Waterfall, has for long become the favorite choice of travelers for their motorbike trips. In this Ban Gioc Waterfall tour, you will find the freedom to explore and to experience many of the interesting specialties that Ban Gioc has to offer. Let's plan for your trip there with BM Travel Adventure.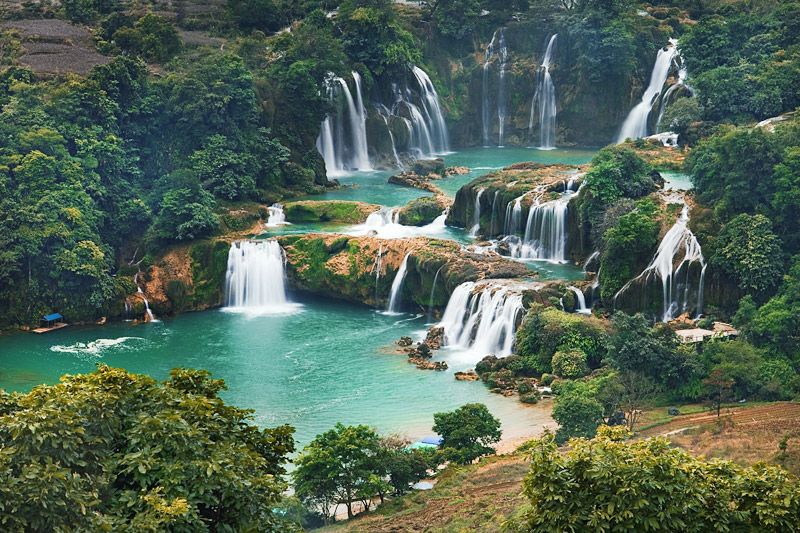 What time to visit Ban Gioc Waterfall?
Summer is often the time that tourists opt for Ban Gioc Waterfall Tours in their travel plan. In this season, the huge amount of water from upstream flow in and give the fall a tremendous power to pour thunderously unto its base, creating a pool of white mist and foam that can be seen from afar. As you get closer, the summer heat is soon dissipated and the fall will engulf you in the cool, misty weather of itself. If by chance you come here when the rice fields go ripe, you will get to see Ban Gioc in its most colorful picture with colors of bright gold on rice fields, the deep green of old forests, emerald from the river of Quay Son.
Coming to Cao Bang in late autumn, you could include in your Ban Gioc Waterfall tour a day foraging for chestnuts in Trung Khanh. Winter is not a perfect time for relaxing at Ban Gioc, but it is one of the rare occasions when tourists are scarce. You could seize wonderful photos of Cao Bang in winter.
Route for Motorcyclists
The route for Our Ban Gioc waterfall tour from Hanoi has two sections: Hanoi to Cao Bang City and Cao Bang City to Ban Gioc waterfall.
For the first leg, exit Hanoi on the old National Road No.3 (through Thang Long or Chuong Duong Bridge) and ride toward the direction of Thai Nguyen to avoid the freeway; the next waypoints are Bo Dau (Thai Nguyen) – Bac Kan – Cao Bang city.
The second and last leg, from Cao Bang city you can use your motorbike or rent one to ride to Ban Gioc waterfall on National Road No.3 through Quang Uyen district, then to Trung Khanh via Provincial Road No.206, and along Road No.206 to Ban Gioc.  The mountain passes are some tough roads and can be an interesting part if you like challenges. To compensate for the inconvenient, the view there could take your breath away with its primeval jungle of the North East concealing in its bosom the houses of Tay people.
Note to take: While traveling, you should keep on your lane and speed. Bring your ID card and relevant papers on your bike to have a smooth trip.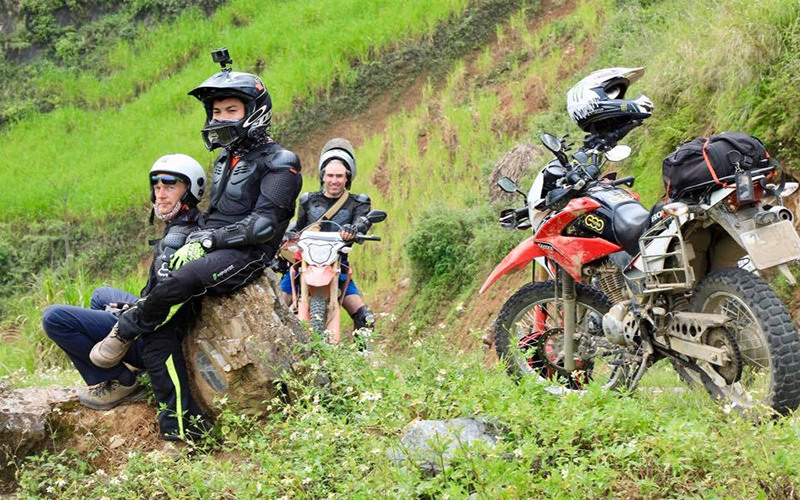 Lodging places in Cao Bang
When touring Cao Bang, you could choose to stay at Cao Bang city for comfort or at Trung Khanh district to experience the local people's life.
In Cao Bang city, there are many well-accommodated hotels to pick such as the 3-star Max Boutique Hotel, Duc Trung Hotel, the 2-star A Dong Hotel, or the 1-star Jeanne Cao Bang, Hoa Viet Cao Bang, Son Tung Hotel… They would charge about USD15 for a night.
In Trung Khanh, there are also good places: Like the 4-star Sai Gon Ban Gioc Falls Resort, or other hotels such as Dinh Van Hotel, Ha Vuong Hotel, and guesthouses: Hoan Le, Minh Duc in Trung Khanh township, Yen Nhi in Nguom Ngao-Doan Thuy, or homestay like Khuoi Ki Ban Gioc in Dam Thuy, etc. The price of homestay service for each person is at minimum VND 100,000 a night.
Budget restaurants in Cao Bang
Each of these restaurants excels in their Cao Bang delicacies with dishes of brook fish, hillock chickens, braised belly pork, seven-flavor roasted duck, ant egg buns, etc.
Dan Toc Quan restaurant
Address: 3/10 Na Can street, Cao Bang city
Opening hours: 8.00 AM – 10.30 PM
Average price: ranged from VND USD5 to USD15
Features: Has an air of highland villages with palm fronds for the roof and wooden pillars. It can accommodate over 100 diners with its tall and clean stalls and tables. The restaurant serves Cao Bang specialties such as roasted ducks, bamboo tube rice, wild boars, hillock chickens, etc.
Cao Bang Ngon Restaurant
Address: No. 5 Hoang Nhu Str., Ha Giang ward, Cao Bang city
Opening hours: 7.00 am – 11.00 PM
Average price: ranged from VND USD7 to USD15
Features: With the capacity to serve over 500 diners, it is the appropriate place for wedding parties or large groups of tourists. The restaurant has its own large parking lot in its courtyard. Inside is spacious and large and there is a professionally equipped stage for gala dinners. Guests can choose to dine outside or in air-conditioned rooms.
Cao Bang Ngon Restaurant serves traditional specialties such as roasted chickens, bamboo tube rice, ant egg rice, stir-fried woodland vegetables, wild dear meat, etc., and other dishes per customer preferences.
You are a biker looking for a Ban Gioc Waterfall Tour from Hanoi without worrying about preparing vehicles, schedules, accommodations, or other un-thought expenses? Take a look at the budget all-in-one package tours offered by BM Travel Adventure. These include all expenses, from dirt bikes (Honda XR150, Honda CRF250, Suzuki DRZ400, etc.), tour schedule, tour guide, mechanics, accommodations, and food. All at $149 a day for each person.
We – BM Travel Adventure – are a top-notch motorbike tour operator and motorbike rental in Vietnam. Annually, we have operated hundreds of off-road Vietnam motorbike tours, Vietnam dirt bike tours, Vietnam enduro tours from north to south (Northern Loop Vietnam, Northeast Vietnam Motorbike Tours, Northwest Vietnam, Ha Giang Motorbike Tours via Hoang Su Phi, Sapa Motorbike Tours, Vietnam motorbike tours on the Ho Chi Minh trail…), and also motorbike tours to the neighboring countries like Laos, Cambodia, Thailand. We are sure to offer visitors the best places to travel to matching their lifestyle for a fun experience and the most unforgettable motorbike tour.
Address: 3/7/36 Duy Tan Street, Cau Giay District, Hanoi City, Vietnam

Phone/ Whatsapp: +84 976 024 986

Have a fun, care-free trip with your friends and family!