Vietnam is a Southeast Asian country with a very long coastline. The climate and terrain in the Northern part of the country also make the coasts here more charming. However, not everyone knows which beaches they should give priority to. The following list of 5 splendid beaches in Northern Vietnam will help you out.
Hong Van Beach, Co To Islands, Quang Ninh
In this list of top 5 amazing beaches in Northern Vietnam, Hong Van is the first name to nominate. This is one of the most beautiful beaches in Co To Islands. With over 50 islands of various sizes, Co To has quickly become a renowned tourist attraction in Vietnam. Nevertheless, Hong Van Beach is an ideal destination for those who seek peaceful moments since there are not too many people going around.
Here you can see a lot of wooden cabins with unique architecture. Walking on the smooth white sand beach and immersing yourself into crystal blue water, you will definitely feel relaxed. Kayaking here is a standard option as you can explore the other lovely small islands around. If you want to witness the beauty lurking in the water, diving is what will satisfy you here. Don't forget to fill your stomach with delicious fresh seafood – there are plenty of them for you to choose from. Having dinner while watching the majestic seascape is such an overwhelming experience, isn't it?
Sam Son Beach, Thanh Hoa
Sam Son Beach is obviously always in the topmost famous beaches of the North, in particular, and of the whole country, in general. The beach was first exploited for tourism purposes by French in 1906. And this is always the right decision. This was even a well-known vacation resort for the whole Indochina. Bao Dai – the last king of Vietnam – possessed a mansion here to rest. You can visit the Bao Dai Mansion to see how a king in Vietnam lived.
There are a lot of attractions for you to visit here. Located on Co Giai Mountain, Doc Cuoc Temple is where local people worship One Leg God who punished invaders with seven spells. Trong Mai Stones are strangely shaped stones that are arranged mysteriously. They are a relic of an ancient heart-breaking love story. Co Tien temple is on Dau Voi islet at the end of the Truong Le mountain range. Arriving at the temple, you will be told the legend about a benevolent female doctor. Seafood markets are worth visiting as well – all the seafood here is fresh, cheap, and absolutely delicious.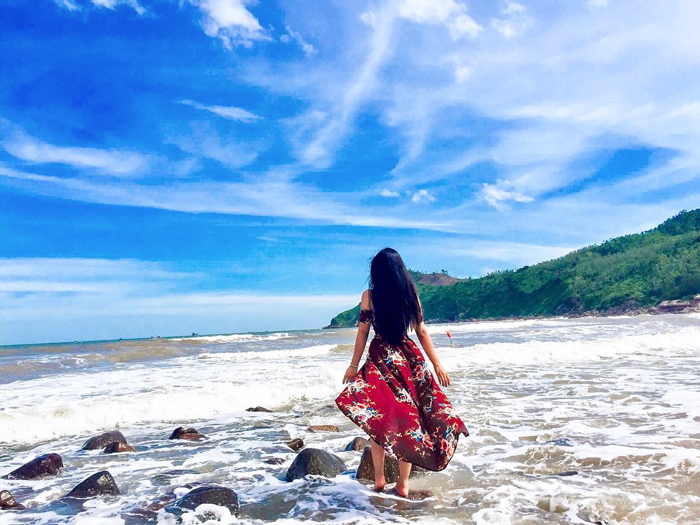 Hai Hau Beach, Nam Dinh
Hai Hau is probably one of the most exclusive beaches in the North of Vietnam. Actually, the official name of the beach is Hai Thinh or Thinh Long. Despite the fact that the length of the beach is just 3 kilometers, its attraction is undeniable. In addition to smooth sand and clear water, the ancient beauty of abandoned churches can make anyone overwhelmed. Saltwater encroaching causes irrecoverable damage to the churches; therefore, people must relinquish them. But they never knew what they've done has created a spectacular scenery that we hardly can see in any other beaches in Vietnam. The old churches with typical architecture of France and unique colors have fascinated so many visitors.
It will be a pity if you don't stop by Xuan Thuy National Park. Here you can find a vibrant ecosystem with over 130 higher plant species, 30 reptile and amphibian species. In 2004, Xuan Thuy National Park was recognized by UNESCO as a biosphere reserve in the Red River Delta. Don't hesitate to spend few more days exploring other attractions in Nam Dinh such as Tran Temple, Phu Day, Co Le Pagoda, etc. which can help you understand more about Vietnamese's conscience and religion.
Cat Ba Beach, Hai Phong
Of thousands of islands in Halong Bay, Cat Ba is the largest one. Here you can find a variety of terrains ranging from forest, seas, rivers, streams, mountains, hills, valleys, sandbanks, and caves. Stunning scenery here "intertwine" to create a flawless painting of nature. The best time to visit Cat Ba is summer when you can sweep the heat away with crystal clear water. Before exploring the beach, you should try the excellent seafood dishes first to raise morale. Mantis shrimp, geoduck, crab, etc. – they are all worth trying.
Cat Ba is probably the most famous one in any list of top beaches in the North of Vietnam. This is absolutely reasonable because the beach is not the only place you explore. Plenty of nearby attractions are awaiting you to come. Lan Ha Bay, with over 400 green islets, is a superb untouched place for those who love tranquillity. Kids would like to see Monkey Island, where troops of the friendly monkey are warmly welcoming visitors and their food. You surely don't want to skip Cat Ba National Park, Cat Co beach, the Canon Fortress, or Cai Beo fishing village. Thanks to its reputation, Cat Ba is always a favorite destination for many Vietnam motorcycle trips.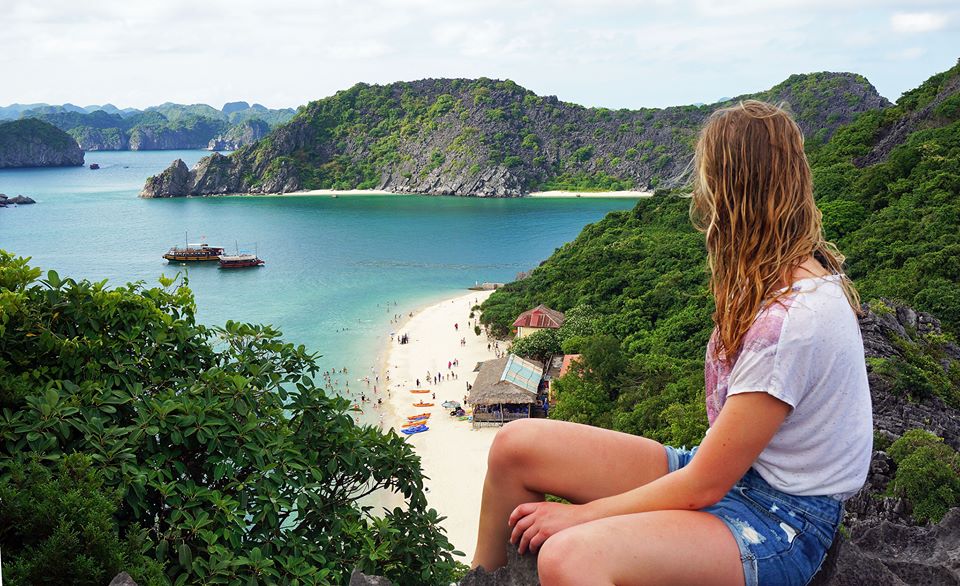 Bai Chay Beach, Quang Ninh
Bai Chay is an artificial beach, located along Halong Bay with a 1000-meter sand beach. This is an attractive beach for a lot of tourists in the season of sea travel. Around Bai Chay is a low hillside running toward the sea, stretching more than two kilometers, with a lot of hotels and villas on it. Bai Chay is the largest beach in Halong city. Fresh air, leaning coconut trees in the wind, the sunshine, the cool water combined to bring an enjoyable atmosphere. The sand beach is quite smooth, and even, therefore, cycling here is really entertaining.
Some cool spots for you to take photos are Bai Chay Bridge. The 1106-meter bridge comes across Cua Luc River and connects Hon Gai and Bai Chay. At night, the bridge is somewhat more beautiful, thanks to vividly colorful lights. Tourists also love to enter night markets in Bai Chay. Souvenirs here such as wind chimes, canvas bags, seashell bracelets, and necklaces, etc. are all quite eye-catching and have reasonable prices. You may buy some items for memory. Don't forget to try exceptional seafood in Bai Chay Beach because some of them are hardly be found anywhere else.
All the five names above are fantastic beaches in the North of Vietnam. If you have a chance, try to visit them all. That is a decision that you will never have to regret. Good luck, and enjoy your trip!